.

POLARIS MISSILE FACILITY, ATLANTIC

34 Years of Service to the Fleet
29 March 1960 - 05 January 1995
SSP Hero News Update
SSP HERO is a non-profit 501 (c) (3) volunteer organization supporting the conduct of educational, historical, recognition and charitable programs for the Fleet Ballistic Missile family, both active and retired.

50th Anniversary Celebration of Strategic Systems Programs

Our major upcoming event is the 50th Anniversary of Strategic Systems Programs on 29 September 2005 at the Hilton McLean Tyson's Corner in McLean, Virginia. Attendance will be limited to the first 900 people that sign up *. Cost for the Dinner is $75/person. There will be a cash bar. Social hour starts at 5PM with dinner at 7PM. To get your name on the list contact John Nickell (email) and send a check made out to SSP HERO to SSP 50th Dinner, PO BOX 2463, Fairfax, VA. 22031-0463. Your check must arrive by August 15 to remain on the list. SP will have a Steering Task Group and a Joint US/UK meeting during this same time frame so we expect a good turnout.
*We have more than 900 signed up to date, which exceeds the hotel's capacity. We will see if the hotel can handle more people and, in the meantime, we will place new requests on a waiting list. Checks must be received by August 15 to remain on the list.
SSP Golf tournament will be September 28 with a 0800 shotgun start. $70/person includes lunch, beverages and prizes). All entries due by September 13. For more info contact MTCS Jason Taylor at 202-764-1166 or SP2200@SSP.NAVY.MIL.
If you desire a room at the Hilton McLean Tyson's Corner there are currently 20 rooms on hold in the name of Csaba Hertelendy @$249/night (+ tax). The Hilton?s reservation phone number is 1-703-847-5000. Or you can check online for other rates and lodging information. There are a number of other hotels in the Tyson's Corner area as well.
A limited number of tables will be provided in the hotel atrium and reception areas for the display of Corporate information and logos. Any corporate giveaways must comply with the appropriate government ethics guidance. Information for reservation of these display tables is being coordinated by SSP HERO volunteer Mr. Csabal Hertelendy at Csaba.hertelendy@il-3com.com or 703-413-0400.
The uniform for active duty military will be Dinner Dress White or Service Dress White with Miniature Medals. Civilian dress is informal (business suit) or black tie optional.
To contact members of the SSP HERO click on one of the links below:

VADM Ken Malley USN (Ret) -- President (email)
Mike Coussa -- Vice President (email)
CAPT Pete Boyne USN (Ret) -- Secretary (email)
Galen Gunderson -- Treasurer (email)
Betty Lou Gantzler -- Coordinator (email)
Susan Underwood -- SSP Liaison (email)
Ginger Phillips -- SSP Liaison (email)
---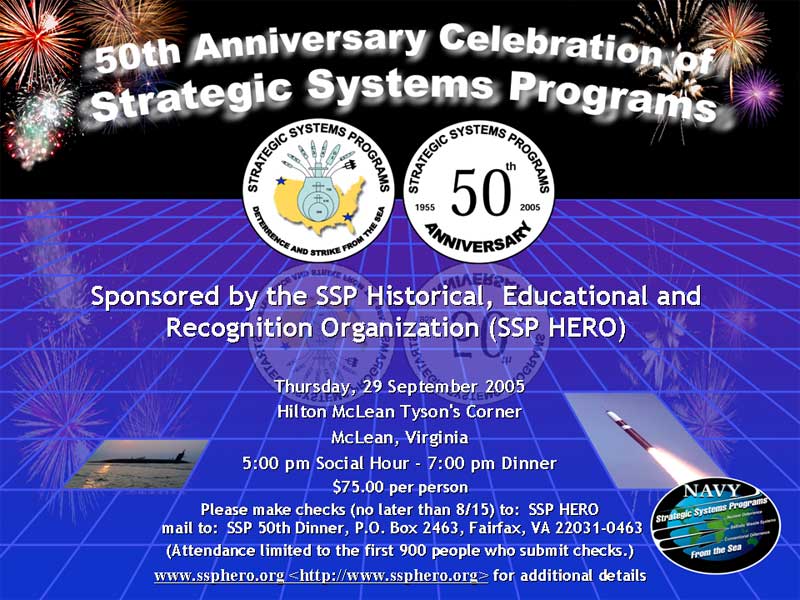 ---
This page last updated on 15 August 2005.
Copyright © 1997-2016 Web Pages by Thunderer. Page designed and maintained by Thunderer.
This page is hosted by Multiwebs.net.